RM Baby
18/07/2011 16:00

Chasing for Racing

After a 10-month racing season, jockeys and horses are now enjoying their relaxing summer holiday. Horses will come back to trackwork riding at the end of July, while jockeys will start training in late August. However, outside the restful racecourses, there are still a group of youngsters fighting for a better future for the Club.

Well-known professional jockeys and trainers as Tony Cruz, P F Yiu, K W Lui, K L Man, C S Shum, Y S Tsui, M Chadwick, and the rising star K C Ng, they enjoy a high reputation both in HK and abroad as making efforts to win honour for HK in international competitions. Actually, they are all from the Hong Kong Jockey Club's Racing Development Training programme (formerly called Apprentice Jockey's Programme). During their training, they were required to clean up stables, improve themselves mentally and physically and even represent HK like Vincent Ho to compete in Asian Young Guns Challenge in Australia.

Everyone has a dream. When I was young, I always dreamt that I could be a racing hero at Sha Tin Racecourse. It is obviously impossible now, but as a racing fan, besides watching live meetings and betting, we could also encourage young people to join the racing industry. It's a way not only making contributions to the Club, but also broadening career horizons for the youngsters.

The recruitment of racing trainees is open now. If you are interested, why not have a try? Perhaps it will be your career for life!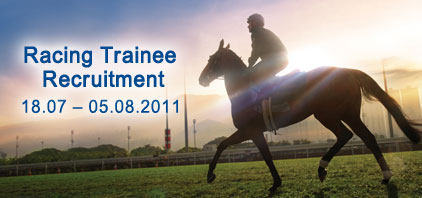 Disclaimer :
The above content and information are the personal views and/or opinions of each individual writer and do not represent the views of The Hong Kong Jockey Club and/or its subsidiaries (together, the "HKJC"). The content and information are provided by the writers solely for entertainment purpose only and should not be construed as a suggestion for anyone to place any bet nor should they be taken and/or relied upon as advice of any kind.

RM Baby was the host of my HKJC Racing Master Game, and she is now expanding her experiences to different entertainment and enjoyment available in the racecourse, sharing every valuable and exciting moment with all the horse racing fans, and reporting the latest news on different horse racing events.

16/11/2015
30/09/2015
12/06/2015
01/04/2015
10/02/2015
11/12/2014
30/10/2014
19/09/2014
12/09/2014
09/06/2014
12/05/2014
12/03/2014
12/02/2014
31/12/2013
13/11/2013
22/10/2013
18/09/2013
27/06/2013
14/05/2013
25/04/2013
15/04/2013
08/04/2013
12/03/2013
06/02/2013
02/01/2013
26/11/2012
28/09/2012
03/09/2012
06/07/2012
15/06/2012
11/05/2012
11/04/2012
16/03/2012
16/02/2012
19/01/2012
22/12/2011
05/12/2011
08/11/2011
13/10/2011
27/09/2011
09/09/2011
11/08/2011
07/07/2011
29/06/2011
17/06/2011
10/06/2011
09/06/2011
24/05/2011