RM Baby
17/06/2011 11:50

Getting an up-close look at the beauties

I'll bet that when many of you were younger, you dreamed of becoming models and being the center of attention. Although not many people get the chance of becoming an artist or a model, the desire to get a glimpse of them never changes. Catwalks are usually only found at fancy fashion shows attended by the elite, while ordinary people can only watch them on television. However fashion shows have also been found at the racecourses for many years. Nowadays racing fan can enjoy live fashion show at the racecourse.

The Prince Jewellery & Watch Premier Cup is the last Group race of the season, there will be a watch & jewellery fashion show this Sunday. Famous fashion designer Barney Cheng will be showcasing his latest collection of evening wear at the Parade Ring. In addition, to acknowledge the achievements of distinguished elites in the performing arts and other disciplines, the Prince Jewellery & Watch Premier Awards will be announced and honoured on the same day. I would remember to get the ''Scratch-and-Win'' card and take a lot of pictures of models, elites and horses for the ''Snaps at the Racecourse!'' competition.

Sichuan Success has won many races this season and definitely has a chance to win at the Prince Jewellery & Watch Premier Cup. Able One has won G1 race but he may be good at 1400m instead of 1600m when getting older.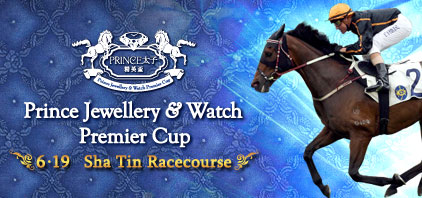 Disclaimer :
The above content and information are the personal views and/or opinions of each individual writer and do not represent the views of The Hong Kong Jockey Club and/or its subsidiaries (together, the "HKJC"). The content and information are provided by the writers solely for entertainment purpose only and should not be construed as a suggestion for anyone to place any bet nor should they be taken and/or relied upon as advice of any kind.

RM Baby was the host of my HKJC Racing Master Game, and she is now expanding her experiences to different entertainment and enjoyment available in the racecourse, sharing every valuable and exciting moment with all the horse racing fans, and reporting the latest news on different horse racing events.

16/11/2015
30/09/2015
12/06/2015
01/04/2015
10/02/2015
11/12/2014
30/10/2014
19/09/2014
12/09/2014
09/06/2014
12/05/2014
12/03/2014
12/02/2014
31/12/2013
13/11/2013
22/10/2013
18/09/2013
27/06/2013
14/05/2013
25/04/2013
15/04/2013
08/04/2013
12/03/2013
06/02/2013
02/01/2013
26/11/2012
28/09/2012
03/09/2012
06/07/2012
15/06/2012
11/05/2012
11/04/2012
16/03/2012
16/02/2012
19/01/2012
22/12/2011
05/12/2011
08/11/2011
13/10/2011
27/09/2011
09/09/2011
11/08/2011
18/07/2011
07/07/2011
29/06/2011
10/06/2011
09/06/2011
24/05/2011